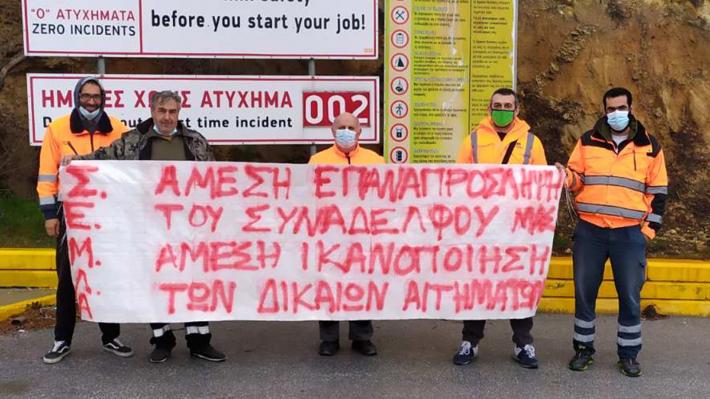 PAME and the National Federation of Miners of Greece (OME) send you militant, fraternal greetings.
We would like to inform you about a very dangerous development and attack against the Trade Unions in the multinational company EDILMAC. The specific company that operates in Italy, Portugal, Monaco, Israel, Chile, Argentina, Uruguay etc. proceeded with the dismissal of the President of the Trade Union of Mines and Quarry Workers (SEMLA) of Northern Greece, colleague Nikos Tzanetis.
 This is the second time in 4 months that EDILMAC is trying to layoff the president of SEMLA. This time they fired him on the unacceptable pretext of non-compliance with his obligations as the company's Security technician, while both the Union colleague Tzanetis fight daily for the observance of even basic health and safety measures at the work place, against the company's policy, which as the workers themselves denounce, sees as "cost" any measure to protect workers' lives.
 In fact, while the union and the Security technician have both informed and denounced for months the violations in Health and Safety issues of the company "EDILMAC", both in the Mining Inspectorate of Northern Greece and in the exploiting company "Hellenic Gold", they was no substantive action to solve these problems. This proves that the layoff of the trade unionist is a direct attack on the workers' right to claim and fight collectively through their unions.
It shows that the employers of "EDILMAC" have implemented a plan to silence the voice of resistance, of the Trade Union, which demands health and safety measures for all colleagues. Because these demands are an obstacle to the growth of profitability and competitiveness, and in the face of this they do not hesitate to sacrifice human lives. They want to crush every voice that rises against their plan and comes at the front line to defend the rights of the workers but also of the wealth of the Greek people that is given to the business groups.
In the face of the EDILMAC attack, the workers, the Federation of Miners and the Union SEMLA have already given militant answers with various mobilizations, work stoppages, protests in the institutions and the Ministry of Labor.
On the 27th of August we proceed to a National day of action for all the unions of the sector in Greece and a 4-hour work stoppage in EDILMAC while a mobilization will take place in the Labor Inspectorate for the revocation of the dismissal.
Dear colleagues, PAME and OME call on you to support the struggle of EDILMAC workers in Greece for the revocation of the dismissal of the President of the SEMLA Trade Union.
With Solidarity messages, interventions and protests in the offices or facilities of the company, or in companies of the sector in your countries, photos from your actions with the slogan
STOP THE LAYOFFS OF TRADE UNIONISTS IN EDILMAC
Send your messages and photos of your actions to