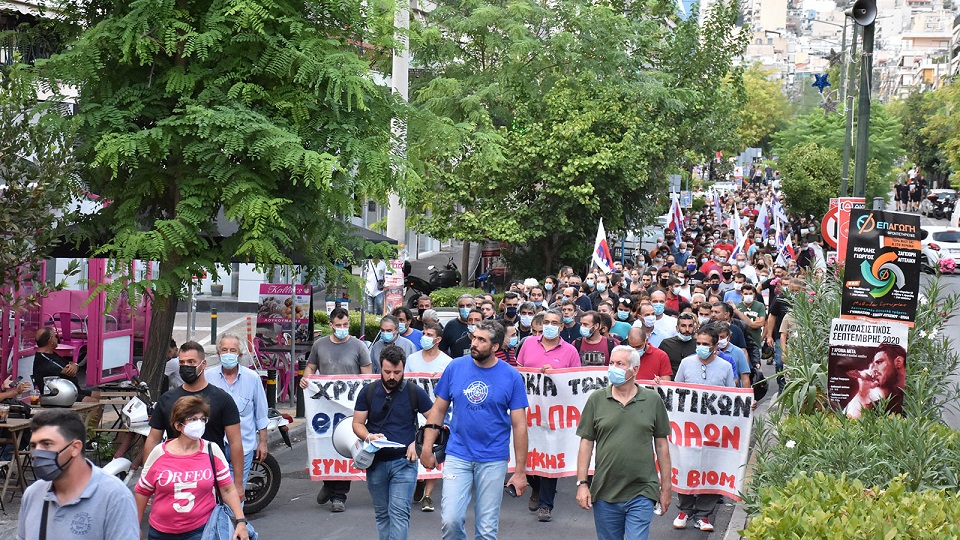 On Friday September 18 the class unions held militant actions in Piraeus and other cities against the criminal-fascist organization of Golden Dawn.
Photos:https://flic.kr/s/aHsmQTjgjY
Video: https://youtu.be/li6jq6C2Aes
PAME in its statement noted:
Friday, September 18 marks 7 years since the murder of the anti-fascist musician PavlosFyssas, an act organized and led by the criminal-Nazi organization Golden Dawn, in continuation of the murderous attacks on immigrants and the trade unionists of PAME.
Actions that even today remainunpunished, since the trial of the Nazis has lasted more than 5 years, with the criminals remaining free, and the prosecutor trying to clear them, paving the way for their acquittal.
We have no illusions about the next day. Whatever the court ruling, the fascists will continue to be a useful backup for business groups and their governments. They have never stopped supporting all measures that violate our rights about collective agreements, health and safety in the workplace. They play their part whenever their bosses call on them to prevent employees from raising their heads, so that silence prevails in the workplaces reinforcing fear and compromise.
The unions have the power to isolate the fascists by organizing struggles that aim at the cause that cultivates, feeds and ultimately uses them whenever and however it suits business groups, EU and government: That is the visible enemy, capitalism.
The developments confirm what the Trade Unions said before the Nazi formation shrank electorally, its executives changed parties and the movement canceled its criminal activity with its struggle. Fascism will not die by itself, we have to crush it!
We continue the struggle against the escalating anti workers attack. We will not allow the working-class and the popular strata to pay again the new crisis, the huge shortcomings in the public health system. We strengthen the struggle against the escalation of the country's involvement in imperialist plans.This is the only way to deal with fascists, no matter what formations they invent.
We call unions and organizations of the popular movement on Wednesday, October 7 at 10 in the morning outside the Court where the decision in the trial of Golden Dawn will be announced.
We demand: Punish the Nazi criminals of Golden Dawn