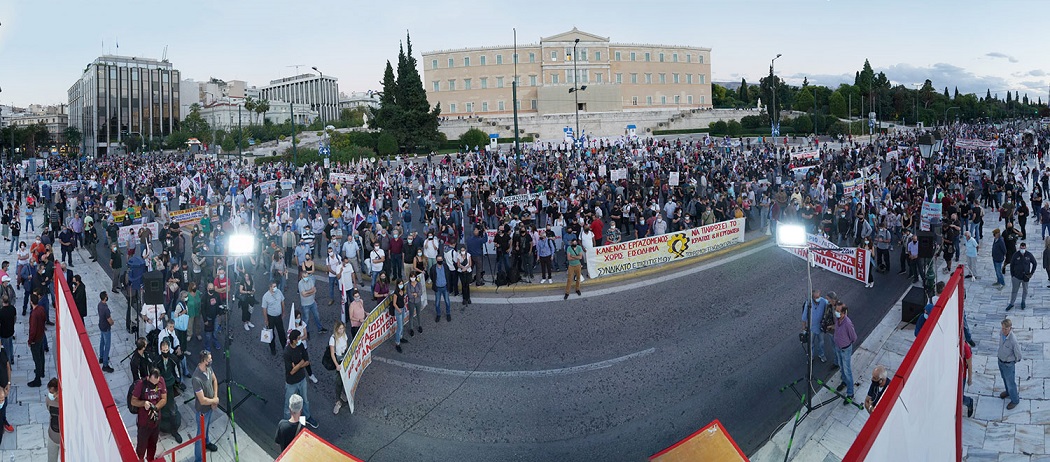 Thousands of workers, unemployed, self-employed, young people, retirees, demonstrated yesterday, October 13, in rallies organized by PAME in dozens of cities across the country with the participation of hundreds of Federations, Regional Trade Union Centers, Trade Unions and organizations to protect the health of the people and to defend their rights against the attack of government and employers.
In confrontation with the "virus" of exploitation, repression, attack on every aspect of workers' lives, unions, organizations and protesters sent a massive message of militant rise, stating that they continue, coordinate and escalate their initiatives so that the workers and the people will not pay the new economic crisis, and to bring their own modern needs to the fore.
In Athens, the rally was a continuation of last week's large rally condemning the Nazi-Golden Dawn criminals.From the podium of the rally was heard the voice of struggle and demands, of the fights that are in progress on a series of fronts putting on the agenda critical demands that touch every aspect of the lives of workers and the people: To shield the public healthcare system, the need to hire teachers and school cleaning staff, for cheap, safe and frequent transport, to protect workers' against dismissals and unemployment. For claiming Collective Agreements, the fight for labor rights, the defense of trade union action, against the new anti-union bill that the government is working on. To respond to repression and authoritarianism that the government uses against the mobilizations.
Photos:https://flic.kr/s/aHsmRq7qC5