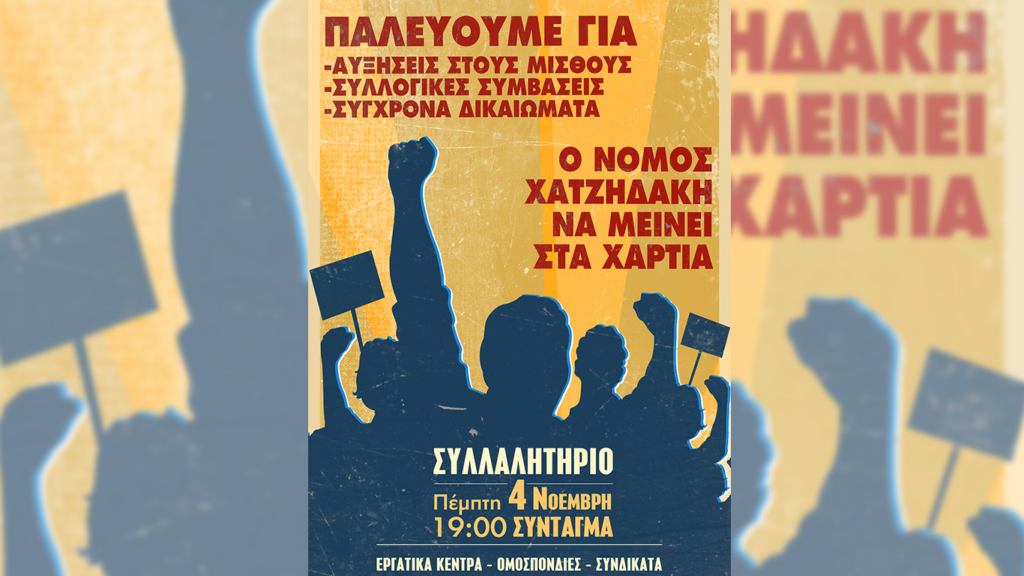 More than 400 trade unions across Greece are calling for massive militant workers' response and participation in demonstrations on Thursday, November 4 in Athens, Thessaloniki and other cities, and more in other cities the following days.
The actions were decided by the unions in massive, open, collective procedures with meetings held throughout the country since the beginning of October.
The focus is on the modern demands of the working class for Collective Contracts with salary increases, for protection measures of Health and Safety in the workplace, for 7 hours – 5 days – 35 hours work-week and Sunday as a day off, the protection of trade union action and a number of other rights. Demands that are in conflict with the anti-workers' measures of all governments and with the Hatzidakis labor law which was voted last summer. This initiative is to prepare a National General Strike for the next period.
At the same time take place sectoral strikes in a series of sectors such as
November 4 National Strike of Construction workers
November 5-6 Strike of COSCO Dockworkers
November 6 National Strike of Commerce Workers in PRAKTIKER
November 9 National Strike of Tourism-Hotel Workers
November 10-11 National 2day strike of maritime workers
November 13 Metalworkers of LARCO Industry strike
List of cities and demonstrations on November 4
Athens
Piraeus
Thessaloniki
Naoussa
Katerini
Arta
Volos
Zakynthos
Igoumenitsa
Heraklion
Thebes
Ikaria
Koropi
Lamia
Lemnos
Mytilene
Pyrgos
Rethymnon
Samos
Serres
Trikala
Chania
On Friday, November 5:
Kalamata
Nafplio
Chios
On Saturday, November 6
Edessa
On Monday, November 8:
Larissa
Tripoli
On Wednesday 10 November:
Ioannina
Karditsa